by Clint Forrette
Sperm Count Me Out
"The chemo may make you sterile. We can't say for sure but it's possible," Jeff the intern warned me.
Unphased, I muttered, "I don't care."
"Don't you want to have kids someday?"
"There's too many people on this goddamn planet."
"You may meet some beautiful girl someday--"
I interrupted Jeff. "I'm already heterosexually sterile."
"What?"
"I can't get women pregnant because I'm not fucking them."
"Oh. Don't beat yourself up, kid. That may change someday."
"I'm gay. That's not changing."
"Oh… Okay. Well, maybe your partner will want kids in the future."
"Have you considered what I want to do?"
"Look, you're emotional right now. But do this for your future self. Your feelings will change someday when you get older. Life's funny like that, kid."
Someday. It kept falling from his mouth and shattering on the ground. The word made me shudder almost as much as being referred to as "kid." I'm a fucking college graduate, you patronizing cuck. As if I could fathom a future. I was just diagnosed with acute myeloid leukemia, a highly aggressive blood cancer, a day earlier. My last concern was whether or not I would be able to change a screeching child's shitty diaper someday.
"I don't think my feelings will change. As time passes, my feelings will only become more valid. Normative, even. The planet is wildly overpopulated. Our environment cannot sustain our population. How many children are trapped in the foster care system and need unwavering love from gay parents? Lots. What is it with straight people assuming that a biological connection to a child is better and somehow makes parenting more meaningful? Besides, I have three siblings. If I desperately need a biological connection to my kid, I can ask them to donate sperm or be a surrogate."
"Think about your genes for a second. Don't you want to watch an extension of yourself grow into a fine, young person like you?"
"Not if they're going to get cancer at 22."
I caught him off guard. He seemed to be interested only in his hetero agenda and managed to forget who the fuck he was talking to. The room fell quiet.
Jeff went on, "This disease doesn't run in your family and the cancer did not mutate your genes. You cannot pass it on to a child."
"Great. At least there's a million different types of cancers they can get!"
"Just think about it. The clinic needs an answer sooner rather than later."
"I've made up my mind," I asserted, looking at the cup Jeff wanted me to cum in.
Fortunately, my parents knew I was going to stick to my decision and encouraged me to do whatever I wanted. My dad is a simple, gentle, sweet man. He tried to comfort me as best as his white straight brain knew how. "There's a chance it won't make you sterile, son. They're just trying to make sure you are aware of what could happen. Doctors are like lawyers in that way. They gotta cover all their bases, can't risk any sort of liability like---"
"Dad, just please stop talking. Thank you. I get it. Really, thank you. But please stop."
Sitting in that hospital room always felt like an emotional sauna. Everyone's fear, pain, and anguish became palpable. My parents and friends tried to stifle their feelings, wipe their tears and fake a smile. But the air crushed us. I took on their pain because I knew they needed me to. As much as this was my life, my body, my blood, they were the army marching behind me into battle. Every time one of them looked at me, their eyes reflected the fear in their hearts. "I'll be okay. I am okay," I lied. I've learned that a hefty portion of being confident is being a delusional liar. There was no choice but to pretend. My mind was the only thing I had slight control over.
I did not have a body anymore. My body belonged to the doctors and nurses as they prepared me for surgery. The port is a medical device planted underneath the skin of my chest with a tube running across my collarbone and sliding into my jugular vein at the side of my neck. Through the port, doctors were able to administer chemotherapy, blood/platelet/antibiotic transfusions, and take samples of my blood without having to poke me with a needle every time. Awaiting surgery, there was a knock at the door.
The resident on my case, Morgan, entered. "Jeff told me you don't want to preserve your semen."
"That's right."
"You know, it's free."
"I assure you, I've never had to pay for an orgasm," I fired back.
"We'll take you down there, give you lots of privacy, and then we can come back here for surgery."
"Where is it? In the hospital?" I asked even though I wasn't interested.
"Well, the semen bank is downtown."
"Oh, fuck that. I'm not going anywhere."
"What if we get someone to take it there for you?"
"Why are y'all so hellbent getting my jizz?"
"You're smart, college educated, handsome and tall. Even if you don't want kids yourself, you could donate your sperm to somebody else. You're a great candidate."
Flattered, I began to consider the offer. Maybe I really could help somebody.
"What about surgery? Aren't I scheduled to go in soon?"
"Yes, that's why we keep asking. It couldn't hurt, Clint. The worst that comes of it is that you do nothing with it. What have you really got to lose?"
"I was just diagnosed with leukemia. How the hell am I supposed to get horny? I have never felt so awful in my life."
"Well, just wait until you start chemo," she tried to jest, which was met with a deathly glare. "Sorry," she relinquished, "just consider everything before you make a final decision."
Jeff came back into the room.
"Hey, buddy, just checkin' on ya. Thought any more about making a sperm donation?"
I threw my head back on my pillow. Could everyone just shut the fuck up for a second?
Jeff continued, "I know you're probably tired of us asking."
"I very much am."
"You aren't losing anything if you do it."
"I know. But this just isn't what I want to deal with right now. I should be getting ready for surgery."
"The surgery will happen when it happens," Morgan comforted me. "If you want this, we will wait."
Morgan had a way of talking to me the way an older sister does. She knew I had to make the decision on my own if I was going to do it at all.
"Uggggggggghhhhhhhhhhh… Fine," I reluctantly obliged.
"Great! You can go in the--"
"But you have to take the IV out of my wrist," I interrupted.
"You're receiving a heavy dose of antibiotics. I can't take the needle out. You need to remain on the medicine until you go in for surgery."
"[verbatim] How the fuck do you expect me to stroke my cock while a needle stabs my wrist?"
"You'll manage. It won't be that bad."
"Oh, so you jerk off with needles in your wrists?"
"That's not what I mean. Just take this cup and let us know when we can come back in."
A surgeon followed by a team of interns entered the room.
"Hi, Clint. I'm Dr. Townsend, Chief of general surgery. I'll be operating on you today. We need to have you downstairs in 15 minutes."
"He might be late," Morgan chimed in. "He needs to give us a sperm sample first."
"Can't he do that after the surgery? The OR is being prepped right now."
"No, he is starting chemotherapy immediately after surgery and he can't donate a sample with chemo in it."
"There's gonna be chemo in my cum?" I wondered out loud.
"There's gonna be chemo in your everything," Jeff so gently put it.
Dr. Townsend and his group of socially awkward kiss-asses left after asking if I had any other questions. I didn't. Get the fuck out.
"Okay, Clint, I know you were having doubts before, but now's the time. Ready?" Morgan conferred with me one last time.
"Sure."
The room cleared. The wind batted against the windows. The television played muted reruns of The Steve Harvey Show. Why am I even doing this? I pulled myself together, grabbed the cup, and entered the bathroom, carting the IV machine behind me, still attached to the tubes running from my wrist. I sat on counter next to the sink, opened up Tumblr and gazed at all the gay porn I could ever need. I took off my hideous hospital gown and gave myself a pep talk. I did not feel sexual for several months leading up to my diagnosis, so it was a challenge to focus. I watched the images of men kissing, sucking, caressing, fucking, holding each other. This is hot, I intellectualized. He is so fucking hot. I touched myself, thinking about how a man would touch me. He wouldn't touch me. Look at yourself. You're emaciated. Nobody would want to fuck you. I felt warmth around my fingers. I stroked my flaccid, seemingly geriatric muscle back and forth with my right hand, the one connected to the IV. An unfortunate time to be right-handed, indeed. Ouch! Motherfucking needle. Every time I moved my right wrist back and forth, the needle subtly shifted in and out of my skin. Tears welled my eyes. I turned the fingers of my left hand deeper inside, searching to elicit nirvana, a place far away where I am in control of my body again, but to no avail. The porn did nothing for me. I closed my eyes and dreamed of my favorite pastime. Surely, this would do the trick? Alas, not even my most intimate fantasies could pull the trigger. Fuck this shit.
I heard the door to my room open.
"You finished?" a voice called.
"Yeah. I can't. Just take me to surgery."
"What hap--" Morgan asked as she entered the room.
"I can't even get hard," I cut her off. "This is humiliating. Just take me to surgery."
I should have listened to my heart. I knew what I wanted. More importantly, I knew what wasn't meant for me. Once I listened to Jeff and Morgan, I changed my mind because a stranger in a fancy white lab coat made me feel like I should. Sure, there was nothing left to lose by freezing my sperm, right? Except, as a twenty two year old adult, I couldn't do something I've done three times a day since I was thirteen. My young form ostensibly withered overnight. In my vulnerable state, I paid attention to someone else's voice instead of my own. I ended up feeling worse about myself, my condition, my body. As they wheeled me into the operating room, tears fell inaudibly.
"You won't feel a thing, baby," the anesthesiologist calmed me.
"I'm not scared. I just wish I didn't listen to them."
"You're in charge of you. You speak up for yourself. You demand what you need. You chase what you want. Focus on you. You tell those interns when they need to go away. You're a survivor, baby, you're already surviving. Are you ready?"
The soft cry evolved into a robust sob. She lightly brushed back my hair. It was one of the last times my hair was tousled for a year. I inhaled sharply.
"Ready as ever."
by Elliott Sky Case
i saw your first love while at work & had to pretend not to recognize her from instagram
every time i ride the train i make sure
to look out the window
as it passes your high school
like i could glimspe you, sixteen
walking across the field
& feel the astro turf
under your feet
can't tell if it's real grass from here
but at my school we had turf
so that's what i'm going with
like that's the best way i know
how to love: piecing together
teenage drinking stories
& exes' astrological signs
to paint a saturated picture
of your years before me
it doesn't sound as good out loud—
i know i have them in myself so
why does it hurt to think about
the parts of you i'll never reach
i don't come out as well in person—
i come home tired & sore
i get high & hard to connect with
i zone out in the middle of you
telling me something new you've learned
because i'm writing lines in my head
sorry you share a bed
with an adhd virgo poet
we listened to pet sounds
on the way back
from your parents' house,
soft silence between us
on that dark stretch of highway
you focused on the road
the same dark brown eyes
that gaze out from the photo on the fridge
the same round cheeks a serious baby
i can't go a week without digging up a fight
i know the name of every dog you've owned
Elliott Sky Case is a genderqueer poet and visual artist. Born in Los Angeles and based in San Jose, Elliott will be an MFA candidate for Poetry at NYU starting Fall 2018. Their work, which has appeared in The Wanderer and Cheers From The Wasteland, focuses on self-validation, finding God in small places, and riding public transit. Elliott is a Virgo sun/Scorpio rising/Libra moon and married to the sunset. They can be found at elliottskycase.com .
by Linette Reeman
We Are Both Mimicking Drowning Victims
It is my birthday. I have just told a boy I like him and he agrees reciprocally. We haven't kissed yet, but he wants to. I am wearing a black dress without a bra and I am so drunk I want the whole truth.
Have you ever kissed a boy before? // Once. // How was it? // Fine. // You know if you kiss me, it's not like you're kissing a girl. You know I'm not a girl. // I know. You're you. // So if you kiss me​ ​it's​ ​a​ ​queer​ ​kiss,​ ​even​ ​if​ ​you're​ ​not​ ​queer.​ ​//​ ​I​ ​know.​ ​//​ ​And​ ​you​ ​still​ ​want​ ​to​ ​kiss​ ​me?​ ​//​ ​Yes.
I am melting him into my rental's kitchen wall-paper. We are both mimicking drowning victims. He is learning I always wear bike shorts under dresses. Then, the stairs jullien underneath us. Then, we are in my room. Then, we are on my bed. We have not unattached this whole time. The rest​ ​of​ ​my​ ​birthday​ ​party​ ​pulses​ ​under​ ​my​ ​feet​ ​when​ ​I​ ​stand​ ​up​ ​facing​ ​him​ ​and​ ​hungry.
You're so beautiful. // Tell me how you first liked me. // In your car. Driving back from Philly. You​ ​were​ ​singing.​ ​I​ ​haven't​ ​stopped​ ​hearing​ ​you.
I ask him to unzip my dress. I am so drunk I know what I'm doing. The cheap fabric pools my waist. I am topless. I still have tits. I bring this up. I know what I'm doing. I've seen my body reflected​ ​in​ ​a​ ​man's​ ​sweat​ ​before.​ ​I​ ​know​ ​how​ ​to​ ​do​ ​this​ ​and​ ​make​ ​it​ ​good.
Please,​ ​touch​ ​me.
A sound like a waterfall, but swallowed. A hand dolphins around my shoulder. I can move like humidity.​ ​I​ ​can​ ​concoct​ ​a​ ​storm​ ​in​ ​my​ ​throat.
This​ ​is​ ​probably​ ​the​ ​last​ ​time​ ​I'll​ ​ever​ ​do​ ​this​ ​with​ ​tits.​ ​//​ ​What?
He​ ​is​ ​shallow-breathing.​ ​He​ ​puddles​ ​and​ ​I​ ​drink​ ​from​ ​it.
I'm​ ​getting​ ​top-surgery​ ​next​ ​week.​ ​Remember?​ ​//​ ​Oh.​ ​Oh.​ ​Oh.
Each​ ​realization​ ​thunder.​ ​Each​ ​second​ ​a​ ​roughened​ ​wind-chime.
I've wanted this for so long. // Me? // Yes. // Like this? // Yes. // What about next week? // I want you. // Are you queer? // I don't know. // If you like me you're queer. // I don't think so. // But you like​ ​this?​ ​//​ ​Yes.​ ​//​ ​But​ ​you​ ​like​ ​me?​ ​//​ ​Yes.​ ​//​ ​But​ ​this​ ​is​ ​queer.
I have him straddled. He has the widest hands I know. I hope he will leave bruises. I hope he will flood me. Underneath us, the party unhinges. My name floats from somewhere like a haunting. He's​ ​got​ ​one​ ​hand​ ​around​ ​my​ ​throat,​ ​my​ ​tits​ ​taut​ ​and​ ​ready.
Oh.​ ​Yeah.​ ​Oh.
He​ ​pulls​ ​back.​ ​I​ ​am​ ​so​ ​drunk​ ​I​ ​think​ ​I​ ​can​ ​fix​ ​this.
I-- // I like you a lot. But I love you as your friend. And I am not going to have sex with you. Because​ ​we​ ​will​ ​regret​ ​it.​ ​//​ ​I​ ​won't.​ ​//​ ​You're​ ​drunk.​ ​//​ ​I​ ​know​ ​I​ ​won't.​ ​//​ ​No.
Then, he is kissing me goodbye even if he isn't leaving yet. Then, he is turning my lights off and making sure the blanket covers my feet. It is my birthday and I am angry I cannot get a guy to fuck me. It is my birthday and I am drunk and he is a good person but I am still angry. It is my birthday and next week I will not have tits anymore and that means a man who is not queer will not fuck me knowing in the future I will look ​Boy. ​And I suppose this is a good thing. For a pair of hands to know their place and not sully or mislead the altar they were offered. For someone to love me enough to not ruin me. For a boy to want a body that is not mine in his mouth and so he does not use me as a substitute. But it is my birthday and I have just learned the opposite of ​Wantand it stings. I have cut my palms open on my own teeth and don't know how to mop up the blood. I am so drunk I wonder if there is something I should have apologized for. It is my birthday and I am sad about my body which means it is just another day and still not the worst birthday I have ever had. I am drunk and wish I could rearrange linear time which means it is every other night bookended. It is my birthday and I am drunk and I am trans and this is what makes me angry. That I am a good fuck until I look like someone else. That I queer everything I touch and this needs a warning. That I warn potential lovers of what I look like under the drapery and they still want to press their palm to the hot stove as if there will be an outcome other than getting​ ​hurt.​ ​That​ ​it​ ​hurts.​ ​That​ ​it​ ​hurts​ ​me.​ ​That​ ​it​ ​hurts​ ​even​ ​if​ ​they​ ​can't​ ​feel​ ​it.
Linette Reeman (they/them) exists on the internet at linettereeman.net.
by Sam Bellamy
Cetaphobe

Sam,
one day you won't be swimming towards
the endless surface.
Here in the middle of Los Angeles
there are no whales with teeth
to pull at your fingers.
One day you won't be afraid
of the bathtub.
Look down, seeing the bottom
of the ocean is not a bad thing.
A few things you own are down there.
Blood and a flip flop.
One day you will float like a dead man
towards the sand you
loved so much when you were a child.
Your thirst for fresh water will be over
and your hair will smell like lime.
Sam Bellamy is a writer living in Los Angeles, California, the land of eternal summer, where she teaches creative writing to kids and runs a poetry workshop at her favorite bookstore. She tweets @super__bloom.
by Aubrey Eli Aileen
Children are a harvest
So I went to planned parenthood to see how much estrogen was in my blood and when I got there I was stopped by a man and a woman holding signs saying "everyone who is for abortion has already been born" and "a person is a person no matter how small" and a man and his wife with a hypothyroid face started following me saying things like "every human life is worth saving" and "hearing my unborn babies heartbeat is the most beautiful music I've ever heard in my life" and I got past and into the clinic and my doctor weighed me in a room that was the color of a stomach and the phlebotomist made jokes about her vacation and when I left after getting my blood drawn the same two people came up to me and asked me if I did it, if I was keeping my baby, and I said that I wasn't getting an abortion and he said can I pray for you and his wife put her hands on my stomach and said bless this woman we are gods handiwork children are a harvest god love this woman god.
Aubrey is a transexual female woman nympholeptic witchmonster who eats people and hates cops. She's sad that human beings don't act as nicely as dogs.
by bxnshy cortana
I like hot sauce so much
I pretty much just drink it
a
l
l
the time
it's pretty good tbh
you should try it
drinking hot sauce

@bxnshy is sad and angry but likes food
by Mary Boo Anderson
7/28/17
I'm having trouble leaving my bed
I'm having trouble not crying
Do you ever sneeze
And the tears you've been holding back
Fly out of your eyeballs?
Projectile crying
Speed crying
Endurance crying
Intramural crying
Crying is the only sport
I would be picked first for
Idk what to tell u
I'm sabotaging potentially good things
For the possibility of you
And I know it's dumb but I can't stop

REMEMBER VAJAZZLING?
Decorating orifices. Fetishizing the void. The wealthy are upset because they don't want victims of a fire to occupy their empty second, third, fourth homes. A blank pocket sized monolith is now all glass, unbreakable, waterproof, impenetrable. For $1000 you can have the monolith with 64GB of space. For $1200 you can have the monolith with 256GB of space. Clouds exist so you can have more space. The shell becomes more important than the organisms it can house. A future where I won't feel guilty when I throw myself in front of an empty, driverless car
A LIST OF ACCIDENTALLY INTIMATE THINGS
● My big hair touching the person sitting next to me on the subway
● Drinking out of the same glass I use to water my plants
● Watching a friend's cursor make last minute edits in their google doc poem
● A mouse making a nest out of my dirty underwear
● Opening the door on someone when they're peeing
● Seeing someone shyly mouth the lyrics to their favorite song
● Picking up someone else's trash
● Sun burns
● Showing someone how to braid their hair
● Touching food when it comes out of microwave to see if it needs a little more time
● Groping fruit for ripeness with strangers
●
Mary Boo Anderson is an artist and writer living in Brooklyn. She is an editor of GlitterMOB magazine and co-curator of the monthly reading series, Cool As Fuck. Her work appears or is forthcoming in Peach, Leste, Spy Kids Review, Witch Craft Mag, and Metatron among others. You can find her subtweeting the patriarchy @whoismaryboo.
by Emma Dwyer
the​ ​danish​ ​curator
there i was
in my sublet bedroom
thinking for the hundredth time
maybe i am a dyke
when
BAM
how could i forget
you
in rome
your voice getting desperate
after two glasses of
champagne
power​ ​couple
last night
my downstairs neighbor told me
that if I'm still single
when I'm 30
he will marry me
I was like dude
your girlfriend is standing right next to us
Emma Dwyer lives in Berlin. You can see more of her work at emmadwyer.info.
by Kristie Shoemaker
opal

my mood ring is broken
in the sense that it is mistaken
as a way to understand my feelings
please close the door
my body is an echo chamber
throwing knees and elbows against flies
full of bug bite constellations
angered by dirty nails
stained by week old smokestacks
i want to collaborate on my life with you
and also drown myself in rose water
kristie shoemaker is a twenty-five year old scorpio who thinks plants are cool. she just released her first poetry pamphlet plants will make her dance (varsity goth press, 2017) and has been published in various lit mags including voicemail poems, weu wei fashion mag, fruita pulp, be about it and more. her first full length collection do graves get wifi will be released halloween (ghost city press, 2017) and you can read her ongoing breakdown @1ittlepeach
by Wimpy AF
say uncle
"when you see a mountain coming,
get out of it's way."
my uncle, six-two and oxen
told me after clipping my wing.
i learn at an early age
to be a black man
is to see a black man
and fear his size, momentum.
to love a black man is to see
his shape and surrender.
i lay myself down
on his threshing floor
say uncle,
and await apocalypse
across my arms. when two gods
enter a room, one is humbled.
but there are no walls,
no floors in space.
so i say lover
when i meet him there.
Wimpy AF is an art archivist that moonlights as a poet and painter. The AF stands for Afrofuturist.
by Helga Floros
Black Mamba
i spoon feed myself toxicity &
it is the only meal i do not pull from my throat
to spit into a toilet shrine.
where i come from warmth is a privilege.
bright like neon & dirty streets,
summer is a dark place. it stinks of death.
you go there on a dare,
to prove yourself: see, i can be cold, too.
colder than the moon. summer has raspberry
bush fangs, you feeble finger &
baby teeth web, shaking sighs. they
say the devil's in there.
you come out with mirrors for hands.
Utopia
there's always gonna be another fist fight waiting
somewhere, the point is to bring a knife. i play dirty.
utopia is where i dream myself very, very small
and kiss you hard on the mouth. is where we press
our fingertips together very carefully and nothing
ever breaks, i hold my breath until i faint.
you're a glowing thing, you're more angel than me
and i mean that in the worst way. you're better
than me and i mean that in the best way. everything
good goes to waste so i am terrified of you ending
in the gutter somewhere again. magic is my heart
beating despite me blowing a dandelion and thinking
about death.
Poem
I am still a child. sickness-curdled new-born,
looked at by every stranger like a miracle.
a circus stunt, right in the city centrum.
crying out, dissipating in broad daylight,
& all the spectators moaning! pleasure,
delight. wide-eyed like myself, it's a
staring competition. Baby can't feel
a goddamn thing. but the audience cheers,
& goes on like any other day. O, Herr,
I beg of you -- end this misery!
Put me out of it! I was never supposed
to outlive infancy anyway, so I am still
a walking baby doll. forever stuck as a toy,
given to girls to play pretend practice Motherhood.
a sweetness i was never given before
but now it's too late. I go rigid, freeze--
passed around as a salt shaker.
dressed up and down, head smashed
to the wall, & an all-American Mother calls:
don't do that! God's sake, Child, it'll break!
but maybe that was the point. maybe,
you break the doll when you can't break
yourself.
helga floros is a ghost & also a lesbian. they have had work published in baldhip magazine, vagabond city lit, and witchcraft magazine. find them on twitter @helgafloros.
by Melody Nielsen
Sharp Teeth / Soft Hold

very small things
hurt to look at
sometimes
the tiniest mouse
dropped from my cat's mouth
her legs still moving
her bleary eyes
there comes a point
when even the most steadfast
are overwhelmed
small things in macro lens:
the vastness of the world
more apparent through
the vastness contained within
with a small thing in her teeth
she became monstrous
I became monstrous
there are a lot of small things inside of me
Melody Nielsen is a poet and witch living and working in Chicago. Her work has previously appeared in Dirty Chai and By&By Poetry. She holds a BA in English from Drexel University. She tweets about astrology and being a lesbian @sapphicstrology.
by Sophia Kiang
orange floral minnows-round 2

orange floral minnows are sliding past, in and out of the water the water is rising now
minnows slide up and down and off my body
small prices to pay. they're swimming next to the raft
there is no reason to lift your eyes so slowly, though you always do
i'm falling forwards into pools of stolen sheets
pooling fabric envelops my skin and
your sheets are white and
i can't find the orange that was mine,
i think.
all the flowers died again
chase me into the minnows that learned to stay alive
chase me until i get better on my own
isn't it your responsibility to keep the minnows alive, to keep this rickety dock from falling apart?
orange floral slides off, fades into dusty gray and pitch-black blood pools under my hands
late night feet slide easily out of bed, through dust and rum, they prevail
late night feet covered. small, writhing fish covering.
small deaths for such a big night
Sophia is a cryptid currently living in an odd, winding boat town called Annapolis. She is not completely sure how she ended up here. A junior in college, her stress levels run equal to her love of writing. She has been previously published in Energeia Lit Mag.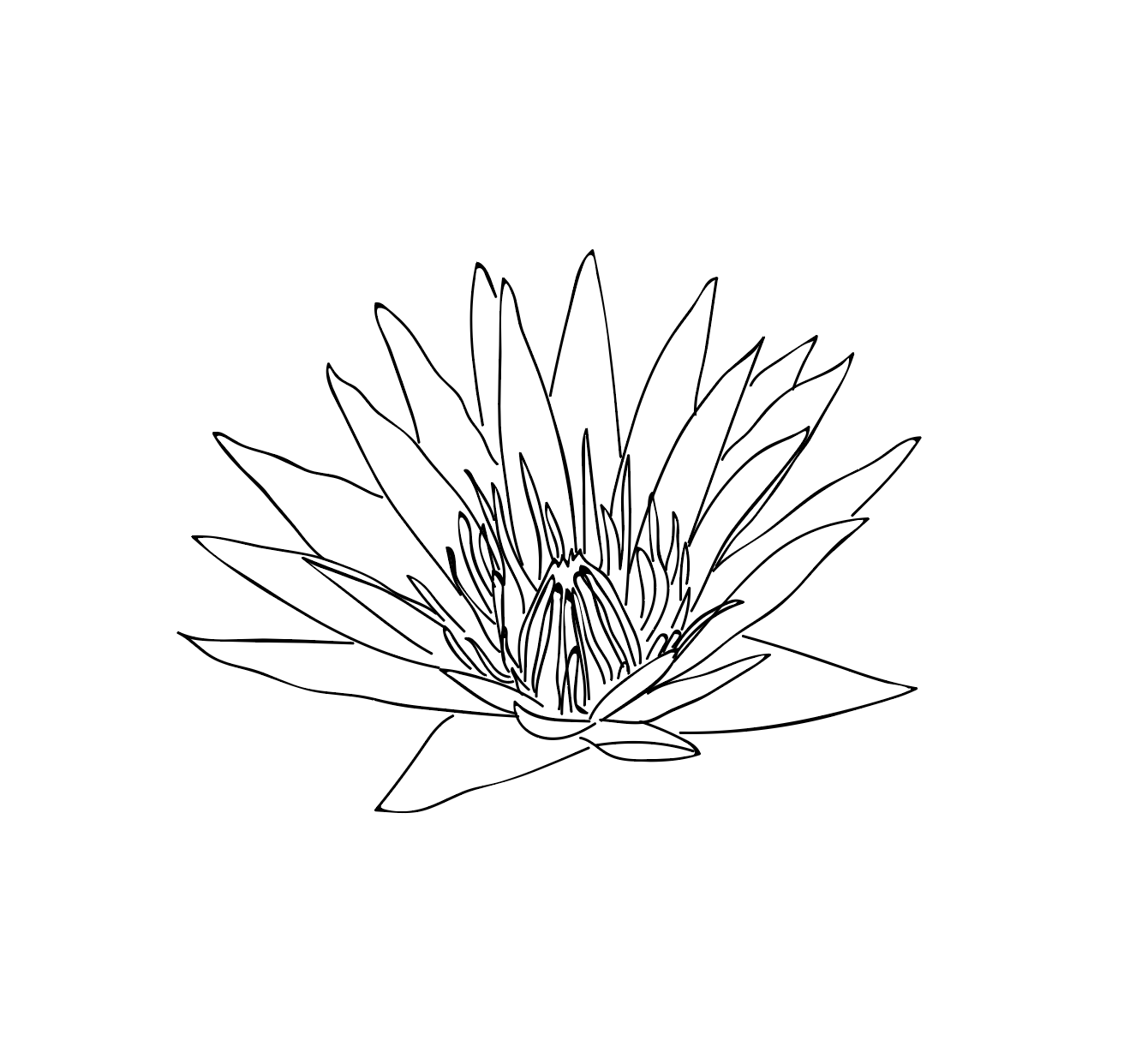 by Anhvu Buchanan & Brent Piller
Living Is the Hardest Part of Living

I love you. That's an easy way to start a poem. I love you and the cranberries growing along your lips. What brushes dust I've already forgotten. Pain knocks on the kitchen window with an axe in hand. Pity is on the back porch drinking lemonade waiting to hear about the time you stopped believing in the kindness of strangers. A reluctant touch brings us closer to the feeling of withering fruit. If a wedding vow was stuck in the middle of a lake would anyone try to save it? Would you drown to dream in French again? I am one picnic basket closer to falling back in love with love. I am one pill away from a forever fever dream. Let's bring it back to this: I feel the hush of you and the arctic night rubbing against us.
Anhvu Buchanan is the author of The Disordered (sunnyoutside press) and Backhanded Compliments & Other Ways to Say I Love You (Works on Paper Press ) and Which Way To Go or Here (Platypus Press, 2016) co-written with Brent Piller. He currently teaches in San Francisco and can be found online at www.anhvubuchanan.com.
Brent Piller is the co-author (along with Anhvu Buchanan) of the mini-chapbook Which Way to Go or Here (Platypus Press, 2016). His poems have appeared recently in or forthcoming in (b)OINK, Gramma, Wildness, Reservoir, and Yellow Chair Review. He can be reached at brent.piller@gmail.com.
by Izzy Leslie
Los Gatos
1
it's wild that jupiter exists and it's even bigger than the earth but it's just a big ol' empty ball of gas currents and i don't care much about space anyways since there's so much wild shit going on here like why do these planets exist if there's no emoji movie there? guess u can download *exclusive* nudes of jupiter off the dark web damn haha san jose rolling hills and indigo skies look like the microsoft background but with satellites like some sleepy space place
2
summer night lit by tastefully placed christmas lights and the glow of a closing apple store and we are walking through downtown Los Gatos where the real housewives of silicon valley go to get wild and drive drunk and there's these 2 women swaying in their heels in front of us taking turns sucking vigorously from a vape pen. ombre extensions whipping behind them, one of the women is trying to convince the other one that their friend (not present) is a "crazy ass bitch" for all the dick they manage to suck. she claims that her friend has sucked the dicks of "every man in the marathon", however this woman believes that she herself coulda sucked that much dick that too if she wanted to. she shoves to vape to her friend who seems to disagree quietly idk if about their friend being a crazy ass bitch or the drunk woman's dick sucking ingenuity
3
flying over the cascades and every mountain could be mt hood and every lake could be crater lake i'm not very good with geography on a map or much less when i'm flying above it like a sky angel i just want to be home where the air is crispy and smells like pine and a lil like garbage in the summer O:-) oh but when u rly do see mt hood it's like wow that is definitely it and we're almost home thank goodness for that
Izzy Leslie lives in Philadelphia and writes and makes digital art. She wants to ride in a PT Cruiser convertible
by Tyler Friend
Period Piece

I want you read,
splayed out
into your separate
syllables, arching with
accent marks
and elongated against enjambment: red.
I want your red blooming into
white sheets like Crayola markers, held right
there. Let her wrap around you red.
I want you red, like aquariums.
Yum. Blue, I want you blue too,
your scream and cry, your roil
and rage haze. You.
I want all of you, your rot
and your meat.
I want your gush; I want
the curtains pulled down; I want
to stay right here.
Tyler Friend is the name of a human living in Tennessee. They received their MFA from Vermont College of Fine Arts, and their poetry has appeared in Tin House, Hobart, and the window of a bar called Charlie O's World Famous.
by Pamela Dungao
everything I write about you feels like vomit

everything I write about you feels like vomit tastes like all the things I've swallowed like you didn't just want to be in my mouth you wanted to fill it in too and be full and big and whole like it was as deep and vast and lonesome as the universe like I wanted to feel you in it too like I also wanted to be full and big and whole like everything about you just wants to come outside and spill and spill and spill and spill and spill over and over again and again it hurls and comes out and turns into vomit emptying my insides out like it feels like my hands have dug so far down inside of me and I'm pulling myself from somewhere so deep and vast and lonesome until I feel nothing else because there is nothing else there like I am just a black hole that swallows everything close by so I swallow everything close by like everything I write about you that feels like vomit and it tastes okay and it feels okay and I am so full and big and whole again and again and again
Philippe Pamela Dungao is a writer based in Toronto, Canada. She tweets a lot about Carly Rae Jepsen @pamdungao
by Brandi Homan
GOSSIP
Jeremy tells me the kid a few rows down is from Small Town Nearby.
He's from the halfway house, Jeremy says.
What'd he do? I say.
Fucked a cow, Jeremy says.
PROOF
Having a boyfriend means someone thinks you're pretty. Mine writes me love poems in pencil on blue-lined paper: my golden hair, my golden heart. I fold the papers into rectangles, slide them under my pillowcase. The words will smudge but I don't mind.
MANNERS
My Boyfriend and I have sex because I love him and that's when everybody says it's ok to do it, but then Bluto makes a joke and puts his hand on my stomach and I know that he knows and I want to die.
I want to die right there.
Take your damn hands off her, I want My Boyfriend to say, but I stand there and feel his dad's hand warm on my stomach. Then I smile because Bluto smiled first.
That's what you do.
Smile back.
Brandi Homan holds a PhD in English, Creative Writing (Prose), from the University of Denver and is the author of two books of poetry, Bobcat Country and Hard Reds, from Shearsman Books.
by Ally Young
The Root Cause of Many of Your Current Major Dilemmas

At the party, on the porch, someone you admire very much guesses your star sign. Scorpio, they say. You are a cancer, and the mistake offends you. You call Nell. Scorpio, you divulge, what tremendous mistakes I have made.


Ally Young is an MFA candidate at Syracuse University but still thinks fondly and often about her various previous residences in Austin TX by the highway. Her work has been published in Borderlands, The Brooklyn Review, Metatron and elsewhere. Her chapbook The West and Other Mistakes came out last fall via Dancing Girl Press.
by Nolan Allan
the attack requires a moonless night, tonight
just won't do, we gotta wait
for the cover of darkness to ascend
the mountain stronghold
marrow stains
the flint knappings as deer strut
through the pews of the dead church, out of
place chandeliers hanging everywhere watercolored
with lichen, tinkling against the buck
and his twelve point antlers like the soundtrack
to a horror movie set during christmastime
for crying
out loud she said, "i am thinking about the immortality
of the crab and why
you put words in my mouth, and i don't
mind how they taste, i turn them over
with my tongue", she said, mapping
the contours
feed me another piece, another
ism, more summer, another
outbreak of poison ivy
climbing up my arms, numinous
ants fleeing the rain amongst
sturdy toadstools knifed down
the middle, bleeding blue latex, silver
gills crushed
we now know that in olden times
some species of deer succumbed to the weight
of their own antlers, and if that's not a metaphor
neatly indicting the history of consciousness, i don't
know what's really real
the attack commences
another night and ends
on time, the lack of casualties
on both sides despite our being
the victor leads me to believe
this was a setup all along, that one day
some gracile ancestor of ours uncovered
the plot to name all things, passing it along
telephone style, whispered succinctly
in one ear in the hope
the message reaches its destination
unscathed and understood
no way
to know if we should have bailed
long ago, though all signs point to
"uh, doy"
road runnering off
precipices festering in the side
view mirrors the way
a black dress drapes off
your shoulder at the end
on saturday
night adam told me that
mid afternoon sunday sex was the best sex
if your goal was to find a way to hide
my intromittent organ, this is no amplexus unless
if i tell you before you've spent the night
my lips taste like butter in the morning
because of all the butter i put in my coffee,
yellow fat wallowing on the surface
tension a rudimentary grasp of physics
makes you aware of
dead flowers who resemble
ripe figs perform an excarnation
upon our ribs, mandolining flesh
to be preserved for two months in spirits
mixed with camphor and myrrh
Nolan Allan's work has been published in Spy Kids Review, Prelude, Witchcraft Mag, and many others. His first chapbook "mountain dew" is forthcoming from Bottlecap Press. He lives in Durham, North Carolina and online @nolanallan
by Daniel Romo
Sitcom

A man walks into a pit and breaks his legs and there is no punchline or laugh track. Any amusement from the incident should derive solely from tendons and bone snapping in half. Everyone experiences moments when not paying attention results in a stubbed toe or a partially maimed torso. And every patch of earth begs to be filled with a substance other than itself (The most obvious metaphors shoulda' been thrown out with the baby.). Half the fun of any crisis situation lies in deciphering if panic outweighs precaution. Laying in the dirt under the guise of a condescending sky provides perspective on the hierarchy of straight faces kept. Deadpan > hardcore, and a town hall meeting only breeds disgruntled team moms. What the neighborhood wants versus what the neighborhood needs pits man against city council. When in doubt, build a park.


The Museum of Second Chances

Whether deserved or not, they're put on display for public viewing, familiar exhibits symbolic of events representing the utmost in redemption. Pastel canvases highlighting broken trust, clay sculptures featuring illicit lust showcase consequences of the worst decisions life has to offer. Admission is free, however a tip jar is placed in the lobby so people can drop in their own notes promoting the spirit of forgiveness. Each work of art is not constructed to scale because degree of rehabilitation and hurt is universally subjective, therefore, each patron is free to view while relying on and replaying past experiences. Judgement is reserved for The Museum of Third Chances, located across the street. Teachers often bring in their classes on field trips, instructing their students on the virtues of truth as well as those of oops. But whether adult or child, it's best to stand back, tilt your head, and admire the pain, careful not to touch anything.


Building a Time Machine

It takes the technological know-how as well as the capacity to relive hurt, aka a little elbow grease and thicker skin than the first. Creating a blueprint for any endeavor requires relinquishing and reliving, accepting fate and forgiving, and the manual for assembling such a project and code for DNA are closely related. The path through the fourth dimension is laden with wormholes and assholes; perfect for sadists or masochists who insist on obtaining closure in the form of opening up old wounds. For the more optimistic voyager, the future is the first stop. A solo movie date void of previews, consisting solely of spoilers. Ultimately, destination and setting depends on direction. Travel east to jump ahead. South to sample past lives. Head west, and never look back.


Pop Quiz

The answer is usually your first instinct. Be it SAT or suspecting your lover of cheating, going with your gut is always preferable to leaning towards your hunch. It's anyone's guess as to the results, but giving it the old college try is better than being too shy to raise your hand. Studies show the brain can only hold so much information, but the human heart can retain infinite amounts of hurt. An A+ result could be luck or simply, big fuckin' deal. You can spend a lifetime studying from the wrong textbook and still not be a failure. The ultimate act of testing yourself is letting go.


Daniel Romo is the author of When Kerosene's Involved (Mojave River Press, 2014) and Romancing Gravity (Silver Birch Press, 2013). He lives in Long Beach, CA and bleeds Dodger Blue... a lot. More blood at danielromo.net.
by Alyssa Ciamp
Sexy Videos Killed Sexy Radio Stars
Videos have haunted me.
Much like
the beloved classic movie
The Ring,
after watching
certain videos
to completion
I feel as if I will die shortly—
suffocated in bedsheets
hot with disbelief
wet with regret
I confessed it to a priest once
on a high school retreat
in a ramshackle church
on a boardwalk in New Jersey
still believing I was cursed
still praying the
women who kiss me in my dreams
would spontaneously remit.
On that retreat: I claimed to have
spoken in tongues
In reality: I just said 'Jesus' enough times
for the syllables to slur together
On that retreat: I could eat again—I had
rid myself of the 'sins' I committed
In reality: I found snacks in the back
of the closet


I was listening to Kelly Clarkson
I never liked oatmeal
but my favorite was the kind
that had dinosaur eggs, they'd hatch
before my eyes in warm water.
My grandfather ate those at the kitchen table
when my summers were longer
In my new Aeropostale polo
I'd crush and be crushed
alone in my parent's backyard.
I thought love was
being rescued
being handed a tissue
a flower
a kiss
because I was sad.
The boy I liked was older—
I bought a skateboard to impress him
I talked loudly, shamelessly,
rode my red Razor scooter around the neighborhood
hoping my forlorn visage would beget romance.
I invited derision
I thought, maybe, I should love quietly
I met the love of my life
On a school bus in 2006
He asked me about the album
in my scratched silver CD player
I lied and said it was Maroon 5
to seem cool
I fall asleep next to him every night
Back-to-front.
On Saturday mornings—
over eggs, scrambled
I talk loudly, unabashed
He laughs with me
My love is oatmeal
With tiny dinosaur eggs
That hatch with warm water



Alyssa Ciamp is a scientist and a writer and a woman (sometimes in that order). She believes in ghosts and the tremendous strength of being vulnerable. Find her on twitter talking about Komodo Dragons: @ClinicallyChill.
by Christopher Bell
Lounger

Anne had slowly sunk into the green arm chair as the morning passed; a slight headache scratching away when she lifted her torso. The others had forced too many shots; beyond giddy to see her back home. They spoke of minor accomplishments, their offspring sharing similar sentiments albeit with less enthusiasm. Anne enjoyed the children's stories substantially more than those from their parents, adding vague insights when prompted. It felt good to listen with a purpose; her days of playing coy to old friends officially over. Now all they had were times when she felt out of place or just comfortable enough to come back.
There weren't any plans to visit in the summer or fall, only a shifting work schedule and acquaintances she'd often kept at a distance. Still, they had a real way about them, recollections of minor comments and tomfoolery forcing a smirk as Netflix played the next episode. She needed to get up soon, starting her day with a drive back to the center. So many waited to see her again, all exceptionally complimentary. Stuart wasn't like any of them. He hadn't gone to the party or made plans ahead of time, and yet Anne knew he'd let her sleep on his couch regardless.
She missed that reliability despite its occasional sting. Stuart had talked too much at dinner, uttering rude or jaded remarks, trying to be funny or transparent. They'd seen each other at their worst, but the occasional façade remained, either as a defense mechanism or to maintain sanity. He'd been quiet that morning so as not to wake her, tiny steps down the hallway to the bathroom and kitchen. She stirred nonetheless, speaking softly before he shut the apartment door. "Have a good day at work. Thanks." He didn't reply; Anne fully aware that her friend's hospitality had its limits.
The comforts of that green chair, though, were unparalleled, her college cigarette burn still intact on the left arm. He'd ditch it someday, and she'd only think of the cushion fondly, lazy mornings of that caliber often forgotten with the passing of time. Just one more mindless half-hour then she'd shower, maybe wash her dishes and leave a sweet, but far from sentimental note on the coffee table. Take care. Make sure not to crack up despite the size of this town. Stuart would smile and hide the page somewhere amongst scribbles.
Anne was lost in the episode when the first thud echoed up. Just the neighbor, she thought, before more footsteps up the hallway to Stuart's door, and then minor fiddling with the lock. He must've gotten out early, returning home with all kinds of words for her before they parted. Anne wanted life to pick up in a dramatic fashion, like when the program ends and there's a week of downtime wondering how these beautiful people will make sense of it all.
Instead, the man entering Stuart's apartment didn't even notice his guest. Dressed in a tight red cycling jersey and black bike shorts, he was but a flash of color and sweat down the hallway. Anne took a nervous breath, uncharacteristically faint as she sat up and contemplated the circumstances. There were knives in the kitchen and a clear path straight down to the outside world. A neighbor would surely hear her scream, although curiosity trumped any escape plan.
Standing, Anne lingered to the hallway and listened to the minor grunts of a man without shame. She caught herself giggling before the flush, then rushing back to the same green chair, turning up the volume an extra notch as his steps faltered. Picturing the look of confusion on his face, he eventually surfaced unscathed, albeit significantly worse for the wear. He had Stuart's eyes, but little else, the years acting counterproductively. Beer belly, bald head, gray stubble and an uncharted tone at the sight of a woman in his son's apartment.
"Excuse me, who are you?"
"I'm Anne. Who are you?"
"Cliff," he sighed. "I think maybe I've heard about you before, either you or maybe somebody else."
"It was probably somebody else."
"Even so, why are you here right now?"
"I could ask you the same thing," she smirked.
"I had to take a shit."
"And you can't do that at home?"
"I was riding around the neighborhood, and this was closer."
"Does Stuart know you come here to use his bathroom?"
"He wouldn't, but I usually send him a text afterwards."
"Just for the hell of it, huh?"
"You got it," Cliff grinned. "Does he know you're here now?"
"Of course he does."
"Are you planning on staying for a while?"
"I was actually gonna leave pretty soon."
"And go where?"
"I'm just visiting from Montana, but my mom maybe lives an hour outside of town."
"Putting off the inevitable, huh?"
"You could say that," Anne replied. "She doesn't get out of work until five anyway."
"Still, you could be lounging there and not here."
"Sure, I guess. Why, does me being here bother you?"
"Of course not. I just wasn't expecting it."
"Because you don't see Stuart having girls over too often?"
"I'm sure he does. He just doesn't tell me anything."
"What, you don't drop in on them?"
"This isn't even an occasional thing with me, but every once in a while it does happen, and I always make sure to do it when he's at work."
"What if he called in sick?"
"Well that's clearly not something he'd do on account of you now, is it?"
"That's a pretty shitty thing to assume."
"It's a pretty shitty world, dear. Best not to let yourself get too caught up in the bigger things, especially if you're just passing through."
"Sound advice," she sighed.
"I better be on my way, though. Plenty of miles before home. It was a real pleasure."
"Sure was."
Anne watched him exit, round splotches of sweat forming at his back. Unpausing the episode, she couldn't get back into it. Something didn't quite click with these people, roaming in packs, looking for love in sunken barrooms where only alcoholics found peace. She could write something better, a real true-to-life kind of thing with an eventual happy ending, except Stuart would be home soon, and despite meeting his father, Anne still couldn't handle all that entailed. They'd see each other again, both perhaps a little less immune to expectations.



Christopher S. Bell has been writing and releasing literary and musical works through My Idea of Fun since 2008. His sound projects include Emmett and Mary, Technological Epidemic, C. Scott and the Beltones and Fine Wives. My Idea of Fun is an art and music archive focused on digital preservation with roots in Johnstown, Pennsylvania. (www.myideaoffun.org). Christopher's work has recently been published in Linden Avenue, Noctua Review, Heavy Athletics, Queen's Mob Teahouse, Crab Fat Magazine, Anti-Heroin Chic, Lime Hawk and Talking Book among others. He has also contributed to Entropy and Fogged Clarity.
by C.M. Keehl
days I didn't believe in
were sure to arrive
aloe like left out too long
in cold michigan nights
oblivion is everything
we built a totem a totality
off of only two howls
hungry running coyotes
& everything new
was instinct now
C.M. Keehl is a poet living in the forests of Michigan with their dog. They have a microchap UNTIL THE FOXES with Ghost City Press, & is founder of GRAVITON. Some recent poems in/ forthcoming: Powder Keg, Heavy Feather Review, Souvenir Lit & Yes, Poetry. @cmkeehl
by Rose Schechter
Blue Baby

Blue Baby is shabby, now. He has lost his coat, and only has his grim grey underclothes. It was his coat that was blue. He isn't really blue, anymore. He is leaning back, with his arms stretched out to his side. Like a porn star, spread eagle. Like Jesus on the cross. Lying back is a more accurate description. Not leaning back.
I made him a little jacket out of felt. It is turquoise blue. Not quite the right colour. It doesn't fit him, and the sleeves are frayed at the sleeves. There are no buttons, and it lies wide open. His rag doll chest is exposed. I think he looks cold.
His shoes are still neat. They are the right blue, a dark regal navy blue. They are a dignified colour. His shoes are sneakers. Like converse or something. They are very neat. They should be cute, and fetching.
His eyes are open very wide. He is smiling. His lips are so pink. They are upturned so neatly. His eyes are blue, too. His cheeks are day and rosy. Just like baby's cheeks are supposed to look.
He has a little tuft of blonde hair at the top of his bald head. This is dirty, now, and matted. I cannot see it from the angle I'm seeing from. His dad is tilted back and I can only see his fat pink chin.
Pink Punk Troll Doll

Pink Punk Troll Doll has stood in a lot of places. She has seen many things. She is the last of the troll dolls, but will not tell you about it if you ask. She does not know how she feels. She a does not want to think about it.
The others were not taken, as she was, from my father's house. They are still there, most likely, but Pink Punk Troll Doll does not know this. If she did, he might not be so happy.
I often wonder if she misses the others.
Her hair stands up and out, just about. The years of plaiting did not do too much harm. She is as ugly as she has ever been. Her face is wrinkled. Her lips are puckered. Her skin is hard and cold to touch. She is as ugly as every other troll. It is not too awful. Her clothes are tight, and the bag that crosses over her arm is someone else's. It looks good on Pink Punk Troll Doll. It suits her style.
She smiles, most of the time. Her mouth is big and ugly. It is a nice smile though. On seeing it you would think that she was truly happy. Not contented. But happy.
Her legs are firm, and from apart. She has the stance of a policeman. Or if someone who has taken a seminar on how to stand like a policeman. Pink Punk Troll Doll does not know about these seminars. She would not attend even if she did. She cannot stand any other way.
Rose Schechter is a student from London. She lives with her mother. Her work can be found at Hobart Magazine and Sea Foam Magazine.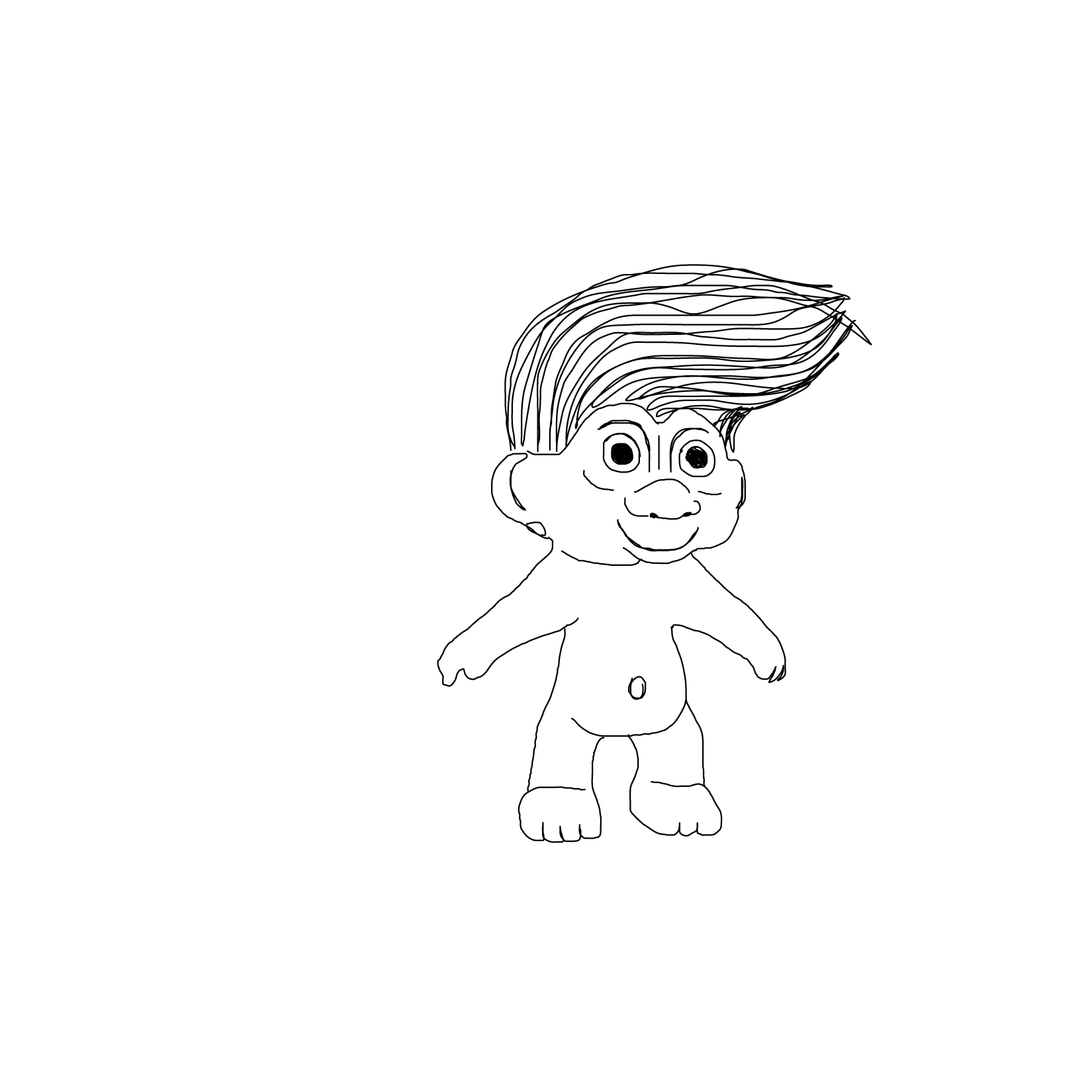 by Laura McCullough
Marriage (after unseen damage from the flood)

The double trunked tree cracked, one side still reaching
to the sky, the other angled, all strangeness
and architectural drama, curving like an arm,
ending in a long green finger pointing toward the house
as if in accusation and some branches flicking the blades
below as if trying to pick up something dropped or lost.
Marriage (more than mercy)

Scientists ask whether light chooses
between being a wave or a particle. Sometimes
we choose for it, they say, assigning
it one or the other, making reality dense
with perception, which is only temporary.
When particles meet, they are forever connected;
even separated, they affect each other no matter
how far apart they become. In one story, there
is poison in a wound; in another, we are just
asking to see under the surfaces of this world.
Marriage (what they try in spring)

They were hoping to stay married, and she'd said, We
love our lost, a strange Spoonerism, but also true. He
laughed with rue, said, So much seems lost: art, planes, people.
They lay in the grass, feet touching at the toes, pleased
to watch the kids shoot each other with pistols, throw
fistfuls of water into the air. They might have wanted
to hold each other, but for the thousand blades between.
Laura McCullough's most recent collection of poems, The Wild Night Dress, was selected by Billy Collins as a finalist in the Miller Williams Poetry contest and was published by University of Arkansas Press.
by Alexandra Kulik
For Winnie, For When-

You will come through the black
sprouts on my inner thighs.
You will hear them seconds before--
feral cats in the night,
black women clawing their way up,
black Eves sucking the ground.
You will not be afraid.

Your first house will be a black
cave into which I drop not jewels
to drug you calm, still,
but icebergs and chicken bones.
You will learn to walk with your eyes.
You will learn everything as you come
out wetland to the wild wood.
I will slam the door behind you.

You will wince at the first smell.
Your raw baby arms will hurt between
my smooth reefs until you can
transcribe the prehistoric field guide
into finger signs so sure I feel them
coursing through my veins.
You will spit out the salt water,
will free your own legs.

Then, you will hear them louder--
the witch mothers calling you
by your name before I know your name.
They will wave black silken threads--
these gypsies, these hags I raised, finally,
when I learned to dance without a man's hand--
you must dance and kiss them all. Blind,
you must spin like burning. Surprised to find
power in powerlessness, you will rejoice.
They will raise the hardest black
bamboo on you and you
will whack it down.

You will come out then,
and voyager, you will be ready
for dawn.
A Letter
You are so young, beginner.
Root beneath the rubble.
Nature is not so unsolved
as you.
You, Nature.
Untidy, perplexed,
you delight in all entanglements:
seek love's tentacles, wet
bosom between rocks, far
song, erring, and what's more—
the invention of erring.
Nature is silent, you invent,
you are so young.
What is your business?
Dance! Invite
the hours of wretched time
to cling to your convulsing hip.
Stay, unanswerable
question, confused.
Significance, insignificance in every motion.
Ramble and arrive staunchly
at the open door of your double mind.
Stretch dogma-muggy space &
Step, thunder!
(Ten billion years ready)
Canoe the wild wind through and
not around and not over the wild thorns.
Tongue fiercely the sick man's mouth
repeating: life is not a bad joke,
life is not, is not a bad joke.
Shimmer, newness.
Beginner, grow!
Indifference poisons fruit.
Reluctance buries the alarm—
you wake in winter, late
abortion.
Alexandra Kulik is a young woman by appearance and something like a mountain goat by spirit. She lives in Chicagoland with her dog Sam.
by M. Stone
Treachery
Your fingers—icy comets
inside my coat.
Beneath the streetlight,
we do not speak; we grin
and shuffle our feet
around this betrayal.
Snow flecks melt in your hair
as you lean close. Your mouth—
a key unlocking mine.
I taste the after-dinner mint
lingering on your tongue.
You take my hand.
We climb the slick sidewalk,
breath held, dreading a fall.
M. Stone is a bookworm, birdwatcher, and stargazer who writes poetry while living in the foothills of the Blue Ridge Mountains. Her poems have appeared or are forthcoming in SOFTBLOW, Calamus Journal, Amaryllis, and numerous other print and online journals. She can be reached at writermstone.wordpress.com.
by Jennifer Huang
In a dream,

I am a tender man. In a dream, I am a hardboiled egg. I touch
my plastic insides. In the morning, I jump into my parents' bed
and we pretend we are in a plane. The sheets, our windows
to the world: there's the ocean we crossed to get here, the dam
we think of when we are homesick, and the mountain that will be there
even when we are dead. When I was born,
my family told each other how much we loved one another.
Love overfilled us with love overfilled us with love—
or that's what my mother tells me. Or that's what I wish
I could remember. Or—how I wish I could be a pilot,
because in a dream, my father is crying and we are hugging.
I have never seen him cry, except when he lost his family to himself.
How I wish I could be a dream with a birthday that never ends.
On birthdays, my father cooks me noodles and tells me that
if I bite the noodle, my wish won't come true,
so I sit at the table and slurp until I fall asleep.
In a dream, I am a fold in a suit,
I am the sheen of satin. I am a pilot and I steer.
Ritual for Connection

On a Monday, we decide to give each other compliments
I like your voice, I say
I like your soul, you say
I like the way your knee bends
Your family's honesty, you say.
On a Tuesday, we stare at each other, closing
our gaps with a purple glue stick, we forget
to listen to each other.
On a Wednesday, I dream of your home
before I even know you and I'm not sure
if that's a sign or not, not sure if there is some weight
behind my visions of battery romance.
I like your kindness, I finally say on a Thursday
when we are scrubbing the floor on our knees
Like this, you say, with a damp microfiber
No, like this, I say, please do like this like me, I think.
On a Friday, we celebrate ourselves
a glass of apple juice and you are tipsy,
I am always sober no matter how much I drink,
my mind more stubborn than my body,
your body, flimsy when I touch.
On a Saturday, no electricity between bodies until Sunday, when our lights turn on
I ask you to tell me you love me.
Instead, a cloud casts a shadow over your mouth.
Jennifer Huang is a Taiwanese-American writer and artist, who prefers to work in verse. Her poems have appeared in The Blueshift Journal, The Oakland Review, and HVTN. She is an Assistant Poetry Editor at Sundog Lit and lives somewhere between her mind and the horizon. www.huangjennifer.com
by Bob Raymonda
The Seedling's Overactive Imagination

the infant tree dreams, each night, of a cyborg in its own image
fiberglass roots tendrilling into the ground as its armored body,
stands proud, grasping toward a sky forever out of reach
its many jointed limbs squeaking in the wind, begging for oil
to ease the pain it feels by merely existing, in a forest
of its betters, both poplar and oak, subsisting off the
same sunlight, but failing to amass their great heights,
unwillingly ceasing its effortless crawl out and upward
instead allowing the soft buzz of its soldered hair
to accept that it has reached its final plateau
the trees, they speak, staring daggers into the mirror
images they see within one another, each convinced
the other has it better, whether it be in shape or circumstance,
manmade or naturally birthed from their mother, Earth

An Infinite Weight

there is a three hundred thousand pound
turtle that lives invisibly inside my chest
grazing slowly on the dropped figs and
pomegranate seeds she finds strewn about
she is older than life itself and splits
her time in between the souls of everyone
on Earth, like some sort of unwitting divorcee
her presence is warm but unforgiving, and
despite what you may think she is faster
than the infinite hare, creeping up on all of us
in bustling cafes and on the pillowy mattresses
where we sleep, her phantom shell scrubbing out
the air from our lungs, inserting endless thoughts
into our heads, until they're full to bursting
it doesn't matter how nicely we ask for her to
give us one brief moment of respite, as even when
she isn't there, crowding up our insides with her guilt
and girth, her forward march through us plods on,
eating away at our last few shreds of refuge, and
the safety we hoped to find inside our wanton homes
these fleshy prisons of all we've ever known

Small Talk

an armadillo with rhinestones on its belly
gets into an elevator with a hippopotamus
juggling a cup of coffee, three pens, and
the paper sack containing his lunch
"Excuse me," says the hippo to his new friend
"Could you do me a favor and press 31?"
armadillo sighs, hopping up onto the hippo's
sweaty back, using his nose to do the other
one's bidding. He returns to his place in the
opposite corner, whistling to the tune of Miley Cyrus'
Party in the USA, and praying to spend the
Rest of their ascension up the skyscraper silent
"Wild weather out there today," hippo muses
and armadillo can't help but let out a little snort;
he has such little patience for weightless
pleasantries shared between two people who'll,
God willing, never have to interact again, that
he more often than not, utterly ignores them
but something compels him to interact, and so
he looks up into the other's eyes, staring daggers
into him, and spits, "No worse than in here,"
and the hippos' shoulders sink, and he frowns
the rest of the way to his floor, at which point he, letting
out a too-loud huff, exits the armadillo's life again.
Bob Raymonda is the founding editor of Breadcrumbs Magazine. He graduated from Purchase College with a focus in creative nonfiction. Some of his other work can be found in Yes Poetry, Peach Mag, Luna Luna, & OCCULUM. Learn more at: www.bobraymonda.co.
by Kevin Bertolero
Little Voices, Little Waves
"Hate is love on fire, set out to burn like a flare on the side of the road. It says stop here. Something terrible has happened."
—Alexander Chee, Edinburgh
Think of the choir boys and their stillness, little voices, little waves, singing oh nuit, vient apporter á la terre.
There must must be other ways, you say, of tracing back to a point of origin, but I can think of none.
When you and I were kids, we put pennies on the tracks, waiting for the 11:00 train. We had a crushed
collection. Now I am on the platform thinking of you, of the cathedral, of blue water and returning home.
Nothing moves me so much as a pile of books in the hallway, my loves. You are an educated man and
understand that I feel a certain shame. This does not mean I love you any less, I say, only that you have so
much to give, and still, you give it all to me. But there you are in the morning on the mattress on the floor,
thinking of a future in which there are fewer trees to cut down, fewer tunnels to bury. A future in which
we empty our jar of pennies and see what is left for us to do.
Lucid Dreaming
after Richard Siken
You take the gasoline and pour it over the pile of leaves, you take a step back, light the fire, and then tell me that it is time to go to school. It is 3:00 A.M. and we are in the yard standing over burning leaves, and when I tell you that it's too early for school, when I tell you that it is Sunday, you come at me and we fight.We both become bloody and when we are tired we fall down. We keep falling and the pile is still on fire. Now the Chevelle is on fire and I am still asleep.
I am in the rail yard, in the rain, and the hills to the east are covered in snow. What I can see looks like the European landscapes depicted in film, a scene of incomplete turmoil. We are at the cement factory in Jamesville and we park the car too far down the road to see it now. Again, we fight, but this time we are embracing. We are reciting the words of our fathers. When I was your age, I would have done anything to be with her. You are not her, but still I am with you. Remind me to tell my father.
We are at the movies. We are sitting in the front row and I'm watching as you begin to wipe tears from your eyes, as you begin to make noises, like something feral. You keep calling the movie theater a wish house, and with the spotted ceiling, I think I can understand why. I only want to know what it is that you are wishing for. I think that maybe our wishes are the same.
Kevin Bertolero is the founding editor of Ghost City Press. He holds a BA in Literature from Potsdam College and is the author of From the Estuary to the Offing, Modern Thought, and Soft Boy. Based out of Syracuse, NY, he is a staff writer for Anomalous (formerly Drunken Boat) and his work has been published by Maudlin House, PNK PRL, Reality Beach and others. He tweets @KevinBertolero.
by Howie Good
After the Fourth

It started off as a kind of tongue-in-cheek thing. He kept saying he was going to kill someone. Yeah, well, that comment got condensed into a soundbite. I received the news from afar. We were shooting fireworks, chilling, and then we saw the cops come. I remember thinking, "Do we belong here?" Here everyone is special, and so no one is, even the dead ones we love. Yesterday was supposed to be a holiday and a celebration. But just taking a picture of explosives bursting in the air doesn't mean anything. The whole century suddenly came together for me as these wispy little clouds behind this barbed wire.

Doo-dah Day

We've probably found the oldest smiley emoji. As for the interpretation, you may certainly choose your own. None of it makes sense. It's like my legs have carried me here by themselves. We don't have a grasp on what the mechanism is yet. The real soldiers wear rags on their faces. I'm looking, but I don't see my child. Things happen to people, and people don't really understand how easily those things can happen. First they're an animal, then they're a volcano, then they're playing with their cat, then they're making songs, then they don't finish the song and they're jumping into the void from an elevated point.

Panic City

There are certain things the body loves to do, like making a cross, or an X, or a loop-de-loo. That doesn't mean it won't happen again. People were screaming; people were throwing up because the smoke was so thick. Panic killed those people. The wind was dangerous. We knew it was dangerous, but people wouldn't listen and more kept coming. They had a vacant stare. They had a stumbling gait. Their heads were drooping. You could see thick saliva dripping from their mouths. Soon they were screaming for help. We saw bodies everywhere. So many were just skeletons. I was standing behind that tree over there. I just kept thinking that it's so easy to run in a dream without getting out of breath.

Howie Good, a journalism professor at SUNY New Paltz, is the author of The Loser's Guide to Street Fighting, winner of the 2017 Lorien Prize for Poetry from Thoughtcrime Press, and Dangerous Acts Starring Unstable Elements, winner of the 2015 Press Americana Prize for Poetry. He co-edits White Knuckle Press with Dale Wisely.
by Ricky Garni
Tardy

There's an old Damon Runyan in the bookstore
and the pages were remarkably bright with
an inscription written in fountain pen by a man
named John W. Allgood who was a Captain in
the armed forces and the date was July, 1944.
The inscription read:
A gift from Margaret
If lost, please return to: General Hospital 206, NYC.
Ricky Garni grew up in Miami Florida in the '60's. has worked over the years as a bicycle messenger, pizzeria cleaner, bag boy, teacher, wine merchant, composer and graphic designer. He began writing poetry in 1978, and has produced over thirty volumes of prose and poetry since 1995. His work can be found in many online publications, print magazines and anthologies and he has been nominated for the Pushcart Prize on seven occasions. His dual volumes "The Tablets of Domino" and "Via" are slated for release in late 2017.
by Nora Pollard
For Max

Grassflower, hot hot
Sending imitations of boat sounds to you today
all the little lizards doing push-ups out of view
honey every word I love I
beleaf you, wow
Wow! So much light caught in this beleaf,
it's strong and warm and biggening
Highup

I'm in a polyamorous thing with the hills, and the fog wandering through the hills, I'm not sure if they're hills
at this height that I'm at,
how do we classify the inner
edges of extremes?
How did I ever use stairs
before getting scared?
How do we call fame?
Too many heights, a community of Spotify Related Artists with me floating thru kissing
trees I'm trying not to think how high up I am
Heat

Flower petals gilded cracking in the heat
I'm whispering @ my parents I need A/C but they're too tall to hear me
I am such a small adult flick me and I ring
Still worried they'll forget the oven is on
Still worried they'll forget me
Hiding in the clothes at Walmart
I need to be here to water things
that are taller than me
My brother is crying every time I repost an article against cops on my sacred social media
I'm crying every time I remember his newest message to me was Happy Birthday 11 months ago
Since when am I loud enough to be loud towards
Nora Pollard is a 23 yr alive gay trans woman living in the pacific ocean on the american colonized islands of Hawai'i. She loves her dog, and her friends, and everything else too. She tweets @tenderpunk_
by Waturi Ekirapa
Ghosts
 
Today was the first time I went to Betty's apartment since Daudi died. Betty asked me to get her navy skirt suit for an interview she has tomorrow.
The last time I was there, I was talking to Daudi about I don't even know what. It's been almost a month now, but somehow it feels like forever ago - like when you remember that series you thought was pretty good but didn't get renewed for another season.
As I opened the door to the apartment, I was a little anxious as to what I would see. What would be different? What would be concrete evidence that someone was no longer around? I unlocked the door, pushed it open, and met the L-shaped sectional sofa at first sight. I stood in the doorway, hoping to find something, I don't know what. Maybe a chalk outline of a body on the sofa, or a faint stench permeating the room, or a mess made of the room. But I found neither. Everything in that living room looked normal, looked neat, looked O.K. I walked around the sofa to the fridge, and inhaled as though I was hyperventilating for only one second. As I walked through that living room, all was quiet but for the hum of the emptied fridge in the corner used for storing Junior's milk. If any other person were to enter the apartment, they might just think the owners were out of town.
I entered the bedroom and scanned the ready-made bed and Junior's cot. I opened up the first wardrobe and started looking for the suit. I didn't want to waste any time. After tossing a few separate items on the bed, an old high school hoodie, a peach skirt suit, a few individual pants and blazers hidden in dry cleaner bags, my eyes started having trouble differentiating between black and navy. I opened up the other wardrobe. That one was Daudi's. I just stared. His fragrance still on those hanging clothes - about 50% cologne, 50% nine-five. I got paranoid that his spirit was watching me flip through his clothes. I don't even think I believe in ghosts, but I turned around to look anyway. Nothing. I called Betty, "I don't see it."
I left the apartment and brought home the peach skirt suit instead.
***
In the early evening I took Junior on a walk in his pram. I said a quiet prayer as he looked at all the nature the world around him had to offer. He'd abruptly turn his head right and left, up and down, as if he would miss a falling leaf or a squirrel running along the fence if he didn't look fast enough. He was engrossed with nature, and so was I, staring into the trees. I spotted the green turaco that we'd seen before on our walks. It was alone again, and I wondered where its partner had gone.
***
Right now it's 11pm and I am on Junior duty again.
Playing quietly on my phone are slow guitar songs about ghosts. Betty is asleep in my room. The dogs outside are barking. I cradle my sleeping nephew whose breathing is somewhat steady as his eyelids flicker a little, sensitive to the dim ceiling light. I am watching him, crying the tears for his father that he cannot.
Turiwat is a writing, music-obsessing, ice cream-loving weirdo that lives in the imaginative. She is from Nairobi, Kenya, and is studying to be an artist of life. She whines about her life at mgeni.org.
by Jasper Wirtshafter
Great-Aunt Beatrice
My 87 year old
Great-Aunt Beatrice
(master of backhanded compliments)
tells me I need
a haircut.
It is
probably
the kindest thing
she has ever said to me.
It's the first time she has
called me by my new
name, she realized
my hair was now
too long for
a boy.
I could
have lectured her about
hegemonic masculinity and
queer anarcho-gender mutiny
that I do not so much want to 'become
a man' as I want to burn
masculinity down
from the inside.
Instead,
I took this as
the closest Great-Aunt
Beatrice gets to
acceptance.
Jasper Wirtshafter is a trans spoken word poet from Athens Ohio, in the foothills of the Appalachian Mountains. Currently, he lives in the least terrible town in Indiana. He performed with F Word Performers, a queer feminist art collective, for four years. His work has been published in A Quiet Courage, Us for President and the forthcoming Not My President anthology.
by Catherine Kwao
Mangadventure

She was on afternoon shift and it was almost two
Mama looked smart in her white uniform with a blue belt
I gave her a quirky smile as she patted my head
Picked her handbag and dashed out
I would be walking the same street soon
She would never find out.
I looked at the clock, five minutes had passed, I dashed down the stairs
Adoley was there and Gerti too and some kids from blocks H and G
We were excited about our little adventure to the doctors' bungalows.
Eight, nine, ten, and eleven year olds
Chattering, laughing, running, shoving, standing
With dusty feet in old flip flops and sweaty faces and clothes.
Indeed we were a sight to behold as we sauntered through the nurses quarters
We took the asphalt road to our destination
A noisy pack we were.
"Shh", said Nana, as we neared the four feet wall
He climbed and peeped over the wall
There was no sign of Baba Musa the ever present grumpy watchman
He jumped over to survey the area
As we waited anxiously.
'Wheeee' went the whistle signal and we smartly silently scaled the wall
Something we had done countless times.
Our mission was to last only five minutes
We made sure not to bring along any novices
Who would increase our chances of getting caught.
Timorously we tiptoed through the withering brown gras
Filling our pockets with stones and pebbles
Nana had found the tree with the biggest ripened
And juiciest 'saloon mango' as we called it.
And as our tradition demanded, being last to join the pack
I was to throw the first stone
Missing my target would be a bad sign
It meant we would be caught.
So having eyed my first target already
With celerity and accuracy I threw the first stone
Wham! And down came a big yellow mango
Like a bolt of lightening I was already under the tree
And the juicy mango landed straight into my open skirt
Catching the first mango was a good omen too
I smiled in my quirky manner as stones started flying into the tree.
A few stones came down alone
But most came accompanied by ripe mangoes
Wham! Pa! Whoo! Tata!
Was all one could hear as we brought down every ripe mango
Maame Esi gathered speedily all the good ones into a black polythene
'Yenko' shouted Nana trotting ahead.
Like a grasscutter smoked out of its hole
Out came Baba Musa from nowhere wielding a very big long cane
'Stop there' he boomed
I ran as fast as possible for the open main gate
Gerti was right behind shouting as she ran, 'He's got Kwesi'.
No one dared stop or even look back
Until we were through the main gate
Our friend was writhing as Baba Musa held on to his shorts
With a swift motion he whipped Kwesi's back
I was glad it wasn't me as the cane landed on his back
Our friend was crying loudly and pleading
'Pull down your shorts, I'll give you six lashes so that you won't come here again'.
We felt very sorry for our friend
We knew he didn't like wearing any underwear.
Pleading with tears streaming down his cheeks
We watched him reluctantly pull down his dirty green shorts.
'Ei! Kwesi! Your bottom is black', Baba Musa yelled.
We all burst out with laughter.
'Hey', he said, turning to warn us
Kwesi slipped out of his grip and run as fast as his skinny legs could take him
Baba Musa was fast on his heels but couldn't catch up with him
He joined us at the gate and we all bolted across the street
Laughing as Baba Musa hurled insults at us.
We didn't mind.
After all we had our juicy saloon mangoes
And our friend was free too.
Catherine Kwao is a freelance writer who has been writing short fiction and poetry since 2003. She holds an HND in Marketing from Cape Coast Polytechnic in Ghana, West Africa. She works as a professional marketer in a financial institution in Tema, Ghana, where she lives.
by Lucas Wildner
Chin up

An Army
Reserve-sponsored
strength competition
on your walk back
from the copier. The poems
in your hand
will invite a student
to come out to you
after class.
They will not pay
for any of your students
to go to college.
It's OK.
No one asked
America
what it wanted to be
when it grew up, either.
Lucas Wildner lives in Kent, WA. His current project examines the relationships between internalized homophobia and white privilege. Recent work lives at Entropy, birds piled loosely, Green Linden, and elsewhere.
by Mariel Fechik
love poem

all I am searching for / is the purity of / 1000 dogs /
and if this / is too much to ask / then I'll settle / for
your face while / you sleep in the summer / in the
wet heat / of july / curled against my back /
Still Life

In the kitchen one evening, I slice little gem
lettuces while I watch my mother grieve into
the television, whistling along to Andy Griffith
and replaying my grandmother's last voicemail
over and over again. I cut my finger and watch
the red slowly drip into the sparkling globes of
water on the delicate green flesh, like that of
aphids, like that of new grass. My grandmother
comes to taunt me with her presence in dreams
I cannot remember, cannot forget. Her shoulders
feel the same there. My mother's shoulders are
not the same anymore.
Mariel Fechik is a musician and writer from Chicago, where she works for an educational nonprofit. Her work has appeared or is forthcoming in Cosmonauts Avenue, Lines + Stars, Maudlin House, and others. Her very favorite possession is a ring shaped like a shark mouth, and she eats a lot of brie.
by Tayler Bunge
Teacher

Her feet smelled of saffron rice
and her palms, of sweet incense and thyme.
Every inch of her flesh was a tea ceremony,
a sacrament
to intention.
Within her chest she held a tenderness of living breath,
and her toes, the dust of unsettled earth.
I expanded with giving,
my soul open to light,
my breath honored, knees humble.
Between the blades of a heavy hearted back,
And the bones of a heavy handed soul,
I felt the radiance of lasting softness,
laying in stillness
as "here" swelled itself open.
Hands full of flesh and given nothing more than
the gentle ease of a currency with no value
but that which she carries on the bus
between vacancy signs and milky starlight,
I danced like one would without legs–
sideways and
entirely undone.
Tayler is a queer brown woman in Denver who loves her plants and trivia about 90s sitcoms. She's been writing since she could eat solids and has been published on Thought Catalog. Watch her tweet to herself @teabunzz.
by Carolyn Chung
5W1H

Who: Pietro, door-to-door Bible salesman, now undressed
What: bare feet on a frozen lake (toes marbled blue-white), a splitting of ice, not loud at all
When: Sunday afternoon
Where: beneath
Why: to be engulfed, swallowed up, purged, and sunken
How: fleetingly, alone like always
Highway Giant

You were the northernmost giant. Nobody saw your birth, down there at the bottom of a subglacial lake. Skin as tough as tundra. Lungs of ice. Born screaming, and raised by the color white. But you were kind. All day you'd sit on the sea floor with one foot on an ice shelf (two, and it would crack), catching penguins between your bloodless toes. They were never scared of you; they knew how playful you were. On Mondays you'd float over deep water with your eyes open, knowing in the sky nothing but loneliness. It was on a Monday night that you left, your body settling the rain as you drifted south. The bottom dwellers told you not to go, but you ignored the bubbles at your back; you paid no mind to kelp grove rumors. You met her on land. She was lying in the middle of the road, so small. A thing of beauty. She was crying. You would save her, would peel the sadness away like bark on a jack pine. It was only when you picked her up that she screamed. So you put her back down. She looked up at you with fear, then disgust, then no expression at all. I want to save you, you said. I want to peel away your sadness like bark. She shook her head, rolled her eyes. Don't you know anything at all? She laid back down on the road. You were a dot on the horizon when she could cry again.
Carolyn Chung is a 19-year-old living in Toronto, where her apartment sometimes floods. Her work has appeared or is forthcoming in FreeFall and Blue Marble Review.
by Kieran Collier
wake
having anxiety // again // same old person // same new me // yikes
the throbbing temple of my skull // the netflix original series of my heart
the slow descent of a hawk // and the grass that bristles // in its wake
wake is a word that's intentional // the way every word should be intentional
but isn't // wake // as in // everything after the end // as in // the accidental gasp
of morning // as in // the shadow that leads // then follows // shuffled feet
but the hawk descending // talons blindly clinging to the absence // of prey
or my voice // at my mother's wake // praying to find a scratch // of response
a quiet snap to ease // the hunger // of ears // and all of this // again
as in // here are the words // I cannot say // here is the bird // caught
in the ache // of my stomach // the caw my throat // cannot grasp
as in // here is // again // a word // I tried to press // intent upon
again // the same old // the same old
Kieran Collier is a Boston based writer and educator. He is the author of When the Gardener Has Left (Wilde Press, 2015) and This to You (Beard Poetry, 2016). His work has been featured in the anthologies MultiVerse: A Write Bloody Superhero Anthology and Again I Wait for This to Pull Apart. He believes in the intersection of writing and education, and that children are smarter than adults. His favorite color is orange.